[Alt-ish] Playlist on Spotify
The Alt-ish Playlist on the Independent Music Stage on Spotify page gives a platform for unique and original independent artists mixed with some of the best from the mainstream music world. It gives them an opportunity to connect with new listeners. An audience that would otherwise never have heard their songs. Listeners that wouldn't have discovered their music.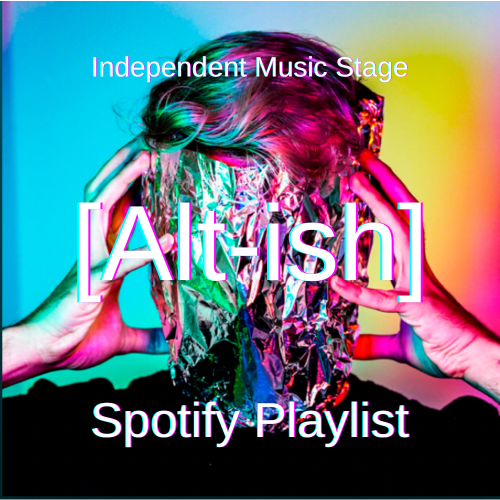 [Alt-ish] playlist shines a spotlight on alternative music genres. From the unusual and unexpected to the downright weird, we love it all. The fact that it is different makes it that bit more special. Often independent, alternative music tends to be a bit more experimental that typical chart music. It is challenging, unconventional and fresh.
As IMS curators, we are wanted our playlists to show off the breadth of talent within the independent music scene.
If you are a fan of independent music, and you want to support the artists who make it, please:
like, share, and comment on the PLAYLIST
like, share, and comment on the SONGS that you like
follow and share the Independent Music Stage
bookmark and share any IMS POST, or PAGE
We'll keep adding more songs to this playlist. It'll keep it alive, interesting and evolving. As a longer playlist it becomes something you can keep following. It's an interesting way to keep up with the ever-changing independent music scene.
Support Independent Music
Presenting great independent music is a key aim of the IMS. Independent music often takes more creative risks than mainstream music. At the same time it has one big constraint. Budget. This is often the case when it comes to promotion. Independent artists truly rely on the support of the fans of independent music.
This playlist was curated by IMS especially for the Independent Music Stage on Spotify.
[Alt-ish] Playlist - Artists and Songs
The [Alt-ish] playlist presents you with some awesome artists and their music. Uncompromising, honest, experimental, courageous, original, fresh and inspirational. Their music connects on a deep level. So kick back, close your eyes, let go and enjoy.
From Outer Space – The Sunbathers
Cassidy – Ben Vogel
Fear – Sheetel
Cave Crawl – Warm Drag
People Get The Fever – Fleet Walker
Wheel – Moses Guest
Say You Love Me Too – Jonathan Bree, Clara Viñals
Hey You – Dope Lemon
Dream Cleaver – Death Valley Girls
What Would I Do – Magic City Hippies
Olalla – Blanco White
Come Around – Martin Jones
The Way – Volker Milch
Deeper – Billy Wesmond
Compliments – Mesita
Dark Side – Hannah
Little Bubble edit – Dirty Projectors
Hard Liquor – SOHN
So Far Away From Me – Avi On Fire
Don't You Worry – Galactic Marvl
We A Famly – The Flaming Lips
Open – San Fermin
Visceral – Bernhoft
Hard Pill To Swallow – Morgxn
No Diggity – Alice Jemima
Airborne – JFDR
I Got You – Single Edit – Seramic
Wash Me Away – Old Sea Brigade
Second Chance – Aestheticvibeys
I Wanna Help Your Mind – Goth Babe
Sue – Jive Talk
I Could See you Reaching For Someone – LOMELI
Drift – Jordan Baer
Puppet – Van Bloom
Aphasia – Pinegrove
The Funeral – Band Of Horses
Motion Sickness – Pheobe Bridgers
Something More – j ember
Breezeblocks – alt-J
Don't Come To LA – Julianna Joy
Fallen Mornings – Alvin Presley
Are You An Artist? Submit Your Song!
If you are an independent artist and would like the chance of one of your songs being added to any of our playlists, follow the link below:
We cannot guarantee that your song will be selected for a particular playlist, or indeed any playlist. However, we will genuinely consider the suitability of every submitted song.
Support Us… and Help Independent Music